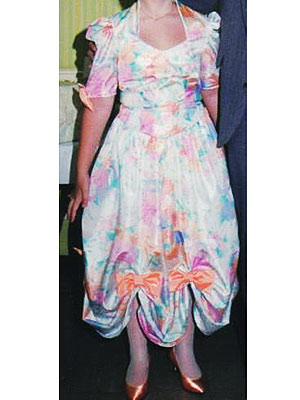 We've all been there, standing beside a close friend as she says "I do" dressed in an ugly bridesmaid dress wishing we were sitting in the seats hidden away with the rest of the guests. For some reason there is a terrible stigma that goes with the bridesmaid dress. Some people believe a bride chooses a hideous dress because she doesn't want anyone to outshine her on her most special day. Others contribute it to the simple fact that it's nearly impossible to find a dress that looks fabulous on every bridesmaid. While you may not choose an outfit that absolutely everyone falls head over heels over it is easy to make sure that you avoid an atrocious dress which no one likes. Here are some ways to make your ladies in waiting happy and stop the flow of unnecessary "I'm not wearing that" tears.
Assess the Ladies' Bodies
Look over your girls' bodies. Examine their curves and be honest about what their assets are as well as their areas to hide. No one is perfect and you're not picking them apart in a mean way, you are just trying to find the best way to highlight everyone and make them all look stunning so don't feel bad about analyzing your girlfriends'  figures.
Inquire about their Preferences
Ask each girl what she likes and doesn't like. Be sure to mention that you aren't sure you'll be able to make everyone happy but that you want to know how they feel about various styles and what they think looks best on them individually. Even asking them just this once will make them feel more included in the process and happier no matter what you decide on.
Have a Fashion Show Day
Invite all your girls out and go dress shopping. Ask them to all try on a bunch of different dresses so you can see how various styles and cuts look on each lady. Take digital photos if you want to be able to look back at how the styles varied.
Shop on Your Own
Go out shopping on your own without the girls around so you can look at all the styles and make a decision without being influenced by one person more than another. This will help you make sure you choose what is best for everyone, not just your best "best friend" or the lady who happens to tag along that day.
Narrow Down the Selections
If you don't want to make the final decision then gather everyone and narrow down the options. Have each lady vote on their favorite and then it's simply a matter of what dress gets the most votes that is chosen. This eliminates you from being to blame in the grand scheme of things because you essentially let them all decide (even though you limited the selection).
Create Options
If you still don't want to responsible for choosing the dress or simply cannot come to any conclusions then just let the ladies select their own dress. Give them a list of boundaries or some specifications of what the dress should be such as the color or length and then make sure you approve each dress. Avoiding an ugly bridesmaid dress is then in their hands and they can't complain because they picked it themselves.
Image Source: http://stylenews.peoplestylewatch.com/2007/04/20/calling-all-bri/
Tweet This Post